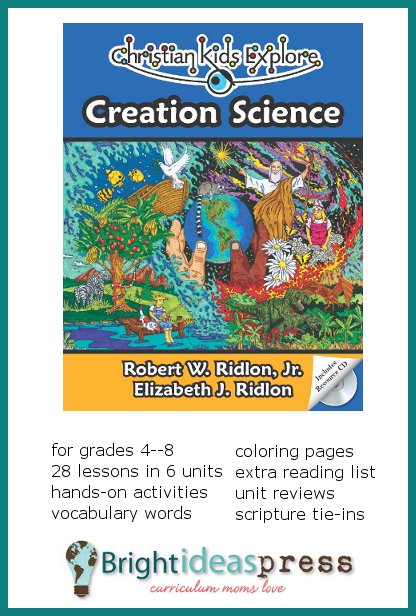 One of my most favorite things to do as a homeschool mom is look at curriculum. I'm sure not all of you share this excitement.
So imagine my excitement when I found out that Bright Ideas Press released a new science curriculum.
A couple of weeks ago, I received a copy of this new curriculum as a courtesy of Bright Ideas Press. They have added Christian Kids Explore Creation Science to their upper elementary-middle school curriculum selections.
When I first heard about Christian Kids Explore Creation Science, I thought it would be a lot like their CKE Biology curriculum.
I was wrong. CKE Creation Science is so much more. Of course, your kids will learn the six days of creation. An entire unit is dedicated to that, but that's not where the book begins. The book starts out explaining intelligent design in kid language. Intelligent design can be overwhelming for adults to consider, and in the search to understand this concept has, at times, driven good, Godly scientists off track. Those scientist need to go back and read Unit One of this curriculum to set themselves straight.
Other topics Christian Kids Explore Creation Science addresses:
How the Great Flood changed the landscape and atmosphere of earth, and how evolutionist often use "misinterpreted facts" to prove their point.
The age of the earth. The author takes a young earth viewpoint, and explains the different ways used to date the age of the earth.
Evidence for why evolution is wrong.
Reinforcement of why we know Creationism is right and Evolution is wrong.
The topics in this book are clear-cut and written where kids can understand them. I learned a few things just skimming through. An example is how radiometric measurements aren't accurate based on unknown variables, and I learned this with a leaky basketball.
One of my favorite parts is how dinosaurs are addressed–given their own lesson, and several other shout-outs in the book, and the transitional forms, or 'missing link' between species. They go into great detail to explain that absolutely no evolution evidence has ever been found proving any sort of 'missing link' between man and ape, or fish and birds, etc.
My top five favorite activities are:
Dog Facts: You learn the different characteristics of three different breeds of dogs.
Build a dinosaur
Get a pet fish–parents, don't panic, the little guy probably won't live too long, or he might live longer than you want. So this might not be an activity for everyone.
Build a model of Noah's Ark
Leaf collection
The cost of this curriculum is relatively inexpensive, and competitive to comparable programs. Christian Kids Explore Creation Science retails for $39.95. You not only get a full year of science curriculum for grades 4-8 (28 weeks), you also get a Resource CD that includes:
Daily Lesson Plans
All Reproducibles
Materials List
Bonus Literature Study Guide
If you'd like to have this, I'm giving away my review copy. August 15-30, I'm participating in the Ultimate Homeschool Giveaway Hop.
Check back tomorrow for information on how to enter.