I can't have a week of Christmas books without talking about Jan Brett. She is the queen of children's Christmas books. Her stories are lively and interesting while her illustrations jump off the page. My kids have always been huge fans of Mrs. Brett and I'm saving their books for their kids. Our favorites are: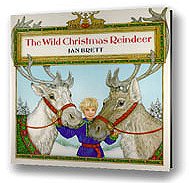 This year, Santa asks Teeka to get his reindeer ready to fly on Christmas Eve. She's happy but a little worried, too. She's never worked with the reindeer before and she's not sure they'll want to come in from the tundra, where they run wild and free.
Once she finds them, Teeka's strong hand does more harm than good, and soon the reindeer are wilder than they were before she began training them. How will she ever get them ready to pull Santa's sleigh on time?
As each turn of the page brings Teeka a day closer to Christmas Eve, Jan Brett's exquisite paintings illustrate not only Teeka and the reindeer, but also the busy elves creating enchanting toys and gifts in Santa's workshop, in the borders of every page.
An original story told in glorious paintings with the magic and splendor of Christmas.

Who's That Knocking on Christmas Eve?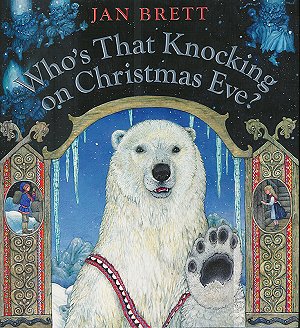 Knockety knock, knockety knock.  Who's that knocking on Christmas Eve?   Is it the trolls who come every year and gobble up Kyri's Christmas feast?  Kyri is worried, but when she peeks out and sees the boy from Finnmark and his ice bear, she opens the door and welcomes them in.
     Knockety knock, knockety knock.  Who's that knocking on Christmas Eve?  This time it is the trolls pounding on the door.  But they can't get in.
     Knockety knock, knockety knock.  The trolls pound even harder.  Suddenly there is a loudcrack and the hungry little trolls burst into the hut.
Will Kyri, the boy, and his ice bear be able to save the Christmas feast?
Jan Brett and her husband, Joe Hearne, went to Norway for her story, based on an old Norwegian folktale.  They traveled all the way the the northern province of Finnmark, where the polar bears live and the northern lights radiate across the sky.
Special thanks to the Brookfield Zoo in Brookfield, Illinois, and to Dr. Lee Cera and the staff for their introduction to Kinapak the polar bear and for providing slides and photographs of Kinapak from his birth to the present.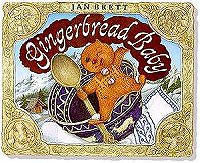 So begins the rollicking chase around Matti's Kitchen and out into the countryside as Matti's mother, his father, the cat, and the dog run after the boisterous, bouncing Gingerbread Baby, only to be joined by a flock of goats, Martha and Madeline, a crowd of villagers and more.  The Gingerbread Baby stays just out of reach, daring them to catch him all along the way!
But Matti's not with them.  He's at home, and we see him in the borders patting and rolling and putting something into the oven.  What is he making?  Will he ever see the Gingerbread Baby again?
Yes!  In a delicious twist at the end that surprises even the mischievous Gingerbread Baby.
Jan Brett's lively and beautifully detailed paintings catch the spirit of a favorite old tale through her cheeky little Gingerbread Baby and the colorful cast of characters who pursue him through a tiny Swiss village surrounded by forest and mountain.
These are only three of her amazing collection of Christmas and winter stories, that complete her seasonal line of books. Be sure to check out her website. You can find coloring pages, cards, and activities to go along with not only her Christmas books, but all of her stories. Your kids can make a Christmas placemat, or color a Hanukkah page.